Spend the whole of today studying and studying and eating and eating.
I woke up early to eat macdonalds breakfast today! And ended up studying there till evening. But at least it was productive! XD
Cant wait for my exams to be over.
Anyway, Ringo and Mikan was on The NewPaper today!
My Picture appeared on Saturdays paper instead.
Didnt know till my friends told me today! >_<
Got someone to scan it in for me. But its quite blur though. =(
Here.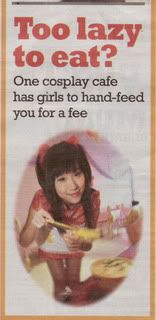 The captions on top of this picture was kindda stupid. So i cropped it out. =__=
Okay going to sleep now!
Have to wake up early to study again!
NIGHT! BYE!