Its Mother's Day.
But my mum is far far away in another continent.
I guess when you have your parents you dont treasure them, but when they are far far away and you know you wont get to see them for a long long time, it just feels horrible.
Now, no matter how much i want my family back together, its not going to happen.
Sad as it is but life still goes on.
And sometimes all i need is just a someone who would just listen and understand how i feel.
Oh well,
Enough of me being all emo.
Here is a cake my aunty bought for my grandma. =D its super nice!
Its called "Baileys on the rocks" and it really does taste like baileys!!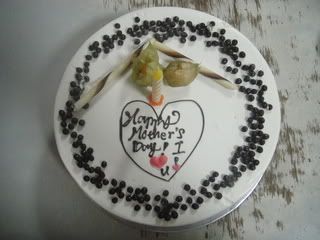 Alright, I'm going to sleep now.
Hopefully i wont feel so emo again tomorrow.
Night!